Oksana Bass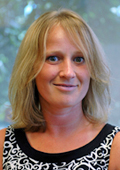 Oksana Bass is responsible for overseeing multiple areas within the organization from payment posting to reporting analytics. In addition to working with the Executive Team on mergers and acquisitions, strategic planning and the budgeting processes, Oksana remains active in the patient financial services area working with payors to maximize reimbursement while analyzing market trends that contribute to or impact change for the company. Oksana is a United Therapies UT Lean Facilitator who leads process improvement teams that support our corporate initiatives.
Prior to being promoted in 2015, Oksana was the Director of Patient Financial Services at United Therapies. Oksana has held multiple roles outside of United Therapies including Director of Operations for a multi-specialty group of clinics and as a Managed Care Contract Analyst for an IPA. She enjoys family, friends and travel.
Oksana received her B.S. from University of Illinois in Finance and in Information Decision Sciences and her MBA from National Louis University. She is a member of the Medical Group Management Association (MGMA) and is hopeful in pursing her PhD in the near future.
Posted Under: