John Johnsen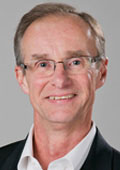 John has had an extensive financial career in the pharmaceutical and health care industry spanning across manufacturing, distribution, domestic and international businesses. At United Therapies, John is responsible for all aspects of the financial and accounting requirements of the company, including playing a key role in the strategic planning and budgeting processes.
His career began in 1973 with the Scientific Products division of the American Hospital Supply Corporation, which was acquired by Baxter Healthcare corporation in 1985. John held many financial related positions of increasing responsibility with several different businesses within the corporation. He held the top Vice President, Finance position for the IV Systems division, the Anesthesia and Critical Care business and ultimately Transfusion Therapies during his career. Prior to coming to United Therapies, John was the Chief Financial Officer for CorePharma and Pack Pharmaceuticals, LLC, both generic pharmaceutical developers
John holds a bachelor's degree in Accounting from Southern Illinois University and a Masters in Management from Lake Forest Graduate School of Management.
Posted Under: